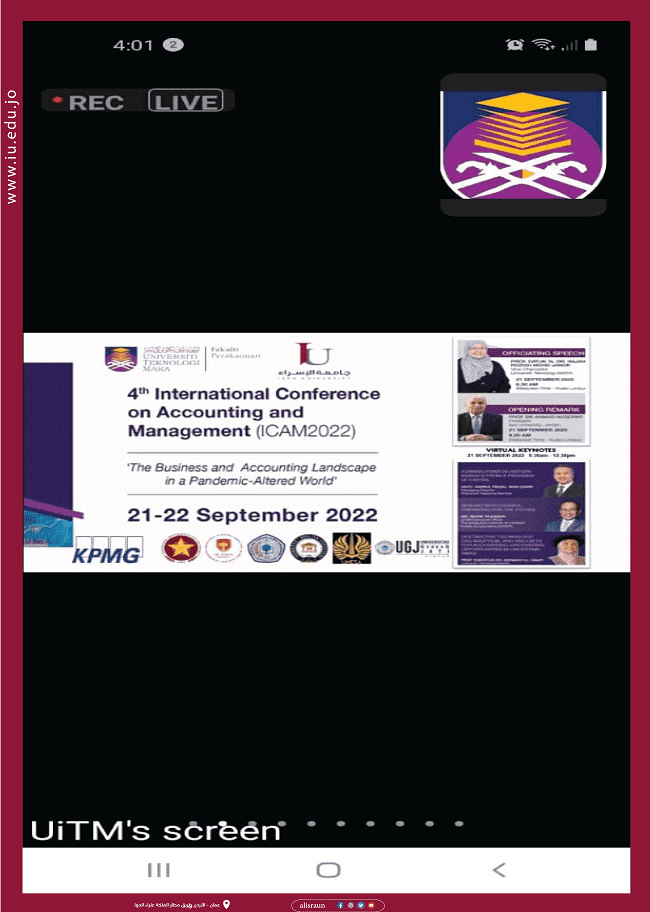 نظمت كلية الاعمال في جامعة الاسراء  وبالتعاون مع جامعة( MARA)  الماليزية المؤتمر الدولي الافتراضي وتحت مظلة(Scoups)   ال
The 4th International Conference on Accounting & Management (ICAM2022) والذي انعقد من الفترة ( 21 - 22 /  09 / 2022) .
وذلك بعنوان  " The Business and Accounting Landscape in Pandemic - Altered Word "
وأشار الاستاذ الدكتور احمد نصيرات في الجلسة الافتتاحية عن اهمية هذا المؤتمر على المستوى الدولي وامكانية الباحثين من مختلف انحاء العالم للمشاركة به  في القضايا الادارية والمحاسبية والتسويقية وغيرها من الموضوعات التي تخدم الباحثين ما بعد ازمة كورونا وكيفية تطوير اداء  منظمات الاعمال .
وبين نصيرات ان المؤتمر سيساهم في دفع جامعة الاسراء للتعاون مع جامعات متقدمة تساعد على تطوير اداء اعضاء الهيئة التدريسية والطلبة وترفع من مهارات العلمية والفنية من خلال الاطلاع على تجارب الدول الاخرى وتنمية قدراتهم ا الابتكارية والابداعية
ومن جهته نوه الأستاذ الدكتور  بلال السكارنه عميد كلية الاعمال إلى اهمية هذا المؤتمر من خلال مشاركة الباحثين من الجامعة وبعض الجامعات الاردنية وغيرها من الجامعات الدولية لتساهم في التعرف إلى  النماذج الدولية في معالجة ما بعد ازمة كورونا اقتصاديا واداريا وماليا وتحسين كفاءة الطلبة علما قد شارك عدد من اعضاء الهيئة التدريسية وطلبة الماجستير بأوراق بحثية متخصصة بهذا المؤتمر .