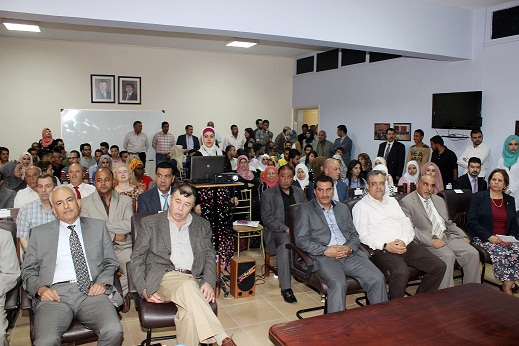 Under the auspices of Rector Prof. Bassam Malkawi and in the presence of Chairman of the Board / General Manager Engineer Maher Ghalayini, deans, heads of departments and students of Arts faculty, and on the occasion of the Centenary of the Great Arab Revolution, independence day and the silver jubilee of the University, the scientific day of the faculty of Arts was organised in the campus.
The Rector and Dean have talked about the achievements of the university in general and the faculty in private.
Nigerian student, who is studying Arabic, has presented a statement showing her participation and joy on Independence Day and the Silver Jubilee of the University.
Two Purposefully plays were showed by the students of both Arabic and English departments .
In conclusion, Dr. Zuhreia has thanked everyone for their participation Faculty of Arts Scientific Day, and thanked the national institutions that are training the students of translation department.
The the Rector has handed commemorative shields for each of the:Radio and Television Corporation, Talal Abu-Ghazaleh for Translation, Distribution and Publishing, Dar Ibn Khaldun for translation, the Center of Arabic Translator for Translation, Al-Ufoq Translation Center, Dar Ayman for Legal Translation, Translation The Leadership Office for Certified Translation, and Mr. Hamza Tgoj.