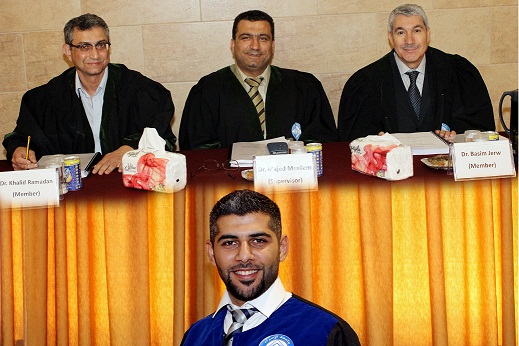 Master Theses in different subjects have Been Defensed in Isra University, as following:
 * "Agile Approach Risk Mitigation Model"/ Software Engineering by Areej Ahmad Nadaf.
* "The role of banks in achieving the valuable functions documentary credit"/ Law, by Ali    Amer Hasan.
* "Efficiency as a condition to assume public office in the Iraqi Law-a comparative study"/     Law, by Noor Ali Kadhim.
* "Penal responsibility of an expert-a comparative study"/ Law, by Majid Saleh Shawabkeh.
* "Antiepileptic and Anticonvulsant Effect of Bongardia Chrysogonum on Pentylenetetrazole –     Induced Kindling in Mice"/ Pharmacy, by Fadwa Thaer Shahir.
* "Development of Pavement Maintenance Management System in Urban Areas (Study Case)"/    Engineering Project Management, by Ali Bilal Shamayleh.
* "Construction Site Resources Management System Using Radio Frequency Identification   (RFID)", by Shiban Mohammed Hardan.
In the conclusion, all of the researchers mentioned above have been awarded Master Degree in his/her specialist.