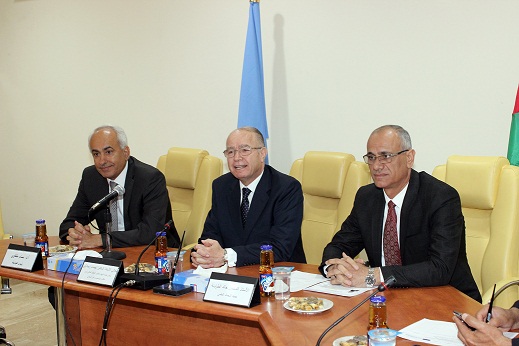 A specialized lecture by the Erasmus office in Jordan by HE Prof. Essam Zaabalawi / the President of experts to develop higher education team at the office/, entitled "National Qualifications Framework, Diploma Supplement and Degree Profile" was held Under the patronage of HE Prof. Bassam Malkawi / Rector, and in the attendance of deans, heads of academic departments, a number of faculty members and the governing body of the university.
His Excellency Prof. Zaabalawi has Presented a comprehensive report on the experience of the EU on the general framework of the efficiency of higher education and educational levels in according to international education standards, through the full description of the all courses that studied by the student in his own single degree, so that a good image would be clear about the academic situation that the student lives in.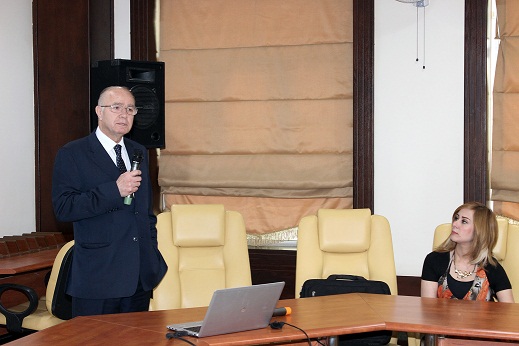 HE Dr. Zaabalawi pointed to the importance of keep up with modern developments in higher education and to benefit from the experience of the European Union countries and the Erasmus program, and he also suggested to have nine academic levels in Jordan.
HE Prof. Zaabalawi noted that Jordan entered in the development of the efficiency of higher education project in collaboration with some universities in the European Union. This project aims to take advantage of international experiences in this sector and the transition from the concept of education to the concept of learning.
HE explained the importance of the participation of all parties in the making of resolution on the efficiency of the academic programs and not to focus only on academic leaders.
In the conclusion the lecturer answered all questions from the audience.
This lecture was moderated by Dean of Research and Graduate Studies, Prof. Khalid Al-Tarawneh.