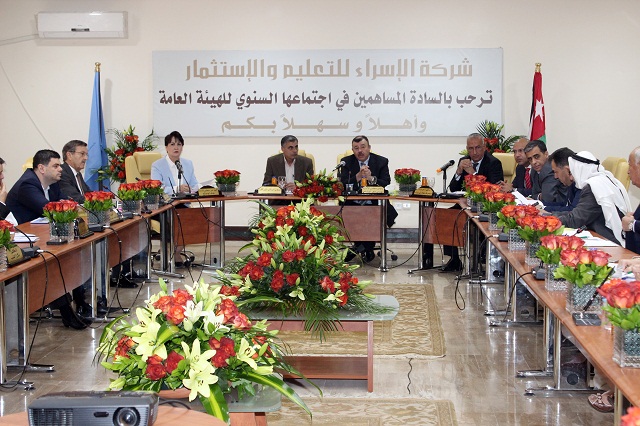 The Board of Directors of Al-Isra company for Education and Investment has decided to distribute profit up 30%, where the company's net profit amounted was 4 million dinars compared with last year's 5.6 million dinars.
"The achievements of the company during the twenty-five years reflect the persistent effort and determination of the Governing Council to support the presidency of the University of Isra in the development and advancement of the university, to be in the ranks of Jordanian and Arab outstanding universities, despite the challenges facing the universities, pointing out that the completion of the construction of the new health center and nursery" Chairman of Al-Isra company for Education and Investment Eng. Maher Ghalayini said.
Eng. Ghalayini has illustrated that the university gives special importance for teaching, training, conferences, scientific research and scholarship to global universities, where the university has provided a number of scholarships for the envoys to get a master and doctoral degrees at universities in Europe, East of Asia and the United States. Also he emphasized on the striving of the university to provide modern programs by launching training programs for domestic community service and care for the less fortunate to supply the labor market with new skilled graduates, in addition to the training sessions for staff to raise their efficiency.Also, he emphasized on the ongoing cooperation between the Board of Directors and the presidency of the university to get up, and to provide the typical picture of the success of the university over the past year .